HubSpot

and

WhatsApp

integration

A single WhatsApp number for your entire team. Using the official WhatsApp Business API, direct the WhatsApp conversations to specific service areas via chatbot; create WhatsApp automations straight in the HubSpot Workflows and record all WhatsApp conversations in the contact timeline in the CRM HubSpot. Your WhatsApp service will never be the same.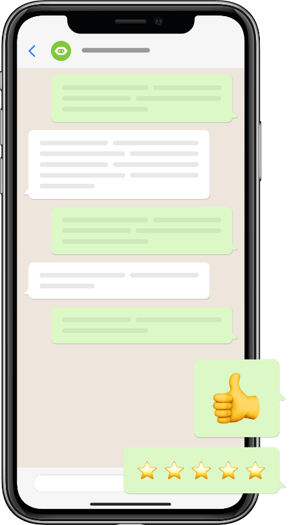 Revolutionize your service operation forever.
Through a single platform, your agents and salespeople have access to all conversations initiated via WhatsApp. One may assess how many active calls each agent has, whether there are contacts waiting in line to be answered and even what the longest waiting time has been. Every triggered or received SMS message is registered in HubSpot's CRM.
In order to further enhance the service, whenever a conversation is initiated on the platform, the contact information linked to the cell phone number are automatically viewed by the agent in the right corner of the screen. It is real-time integration for your company to deliver a wonderful experience for your customers and employees!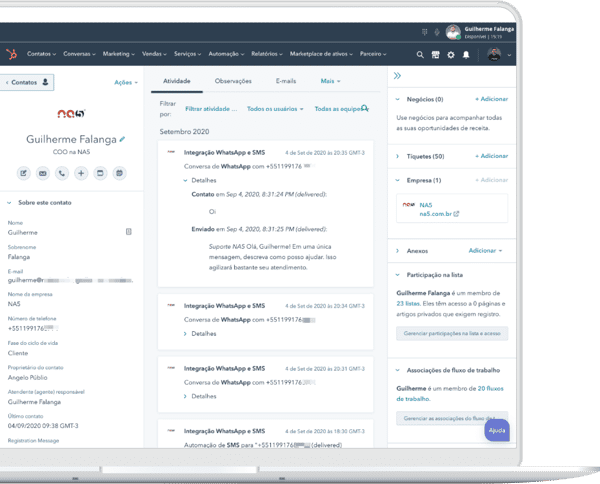 This grants the agent an actual and updated view of that person's relationship with the company. All information related to previous conversations may be checked, as well as orders already placed and even pages accessed and e-mails sent to the contact. We load HubSpot within the service platform in a super intuitive interface, where the agent or salesperson can update the CRM data and simultaneously remain in the service screen.
Practicality and full control. That's how NA5 Plataforma will revolutionize your operation!


Send a WhatsApp message on HubSpot workflows
Send WhatsApp messages from any action of your contacts and create meaningful relationships. Send a WhatsApp message after downloading an eBook, after a step in the Sales Funnel or even weeks before the end of a subscription contract.

Record all WhatsApp conversations at HubSpot
All messages sent and received via WhatsApp are recorded in the contact's timeline, within HubSpot's CRM. You will never again worry about the conversation history being only on your salesperson' WhatsApp. Access all WhatsApp conversations!

Make all conversations from a single phone number
Make a single phone number available for all your appointments and automatically distribute the contacts to your teams – Sales, Customer Service, Finance etc. This will make contact easier with your leads and customers, and ensure that all conversations are made through a single channel, centralized, secure and auditable.

Leads generation when a new contact arrives on WhatsApp
Every new conversation initiated via WhatsApp is automatically related to a contact on HubSpot. The first time a mobile number initiates a conversation with the company, Plataforma NA5 will create a new contact in HubSpot's CRM.
Turn WhatsApp into a true lead-capture machine.
Add WhatsApp to your HubSpot without effort or need for technical knowledge.
We are in the HubSpot marketplace. Order today!
Discover some practical ways to use Plataforma NA5 to revolutionize your WhatsApp service.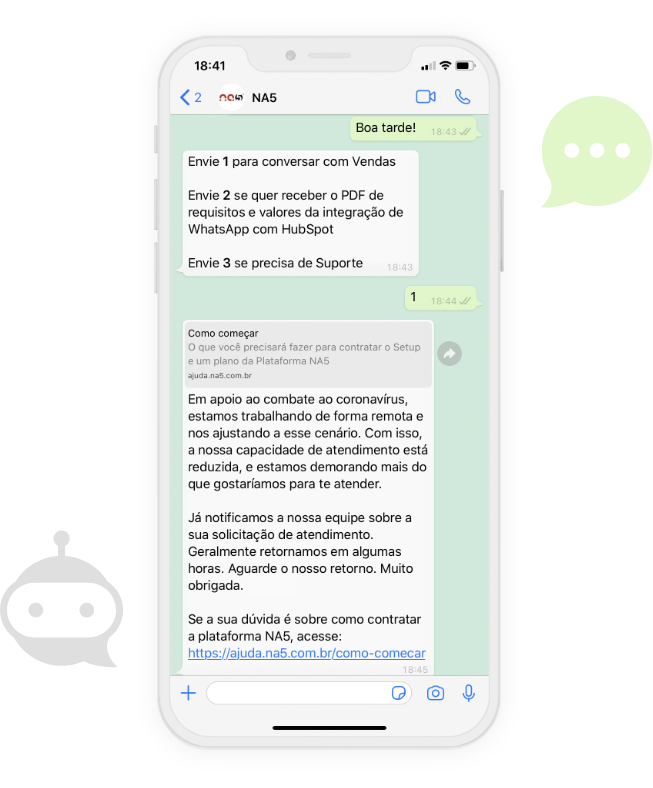 Create chatbots for WhatsApp
Scale up your service with WhatsApp chatbots. Create automatic responses that help your contacts 24x7: Search HubSpot features and search the HubSpot Knowledge Base to deliver to your contacts a unique experience. All chatbot conversations are also stored in the contact's timeline at HubSpot. Consumers want their questions answered quickly.
Return contacts to the same agents
Use intelligent automations to have a contact served by the same agent. If the Contact Owner at the contact's HubSpot is "Agent A", whatever WhatsApp message he sends will be automatically forwarded to "Agent A". Create true relationships between your company and customers by offering an attentive and recurring service.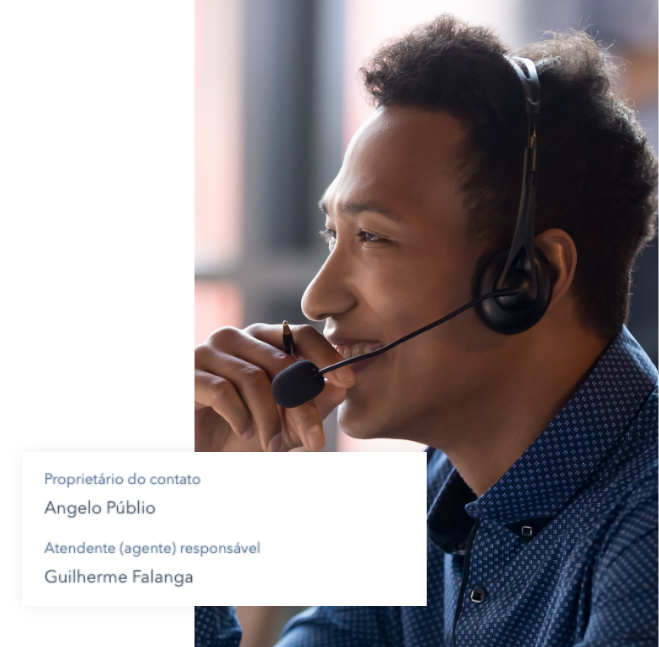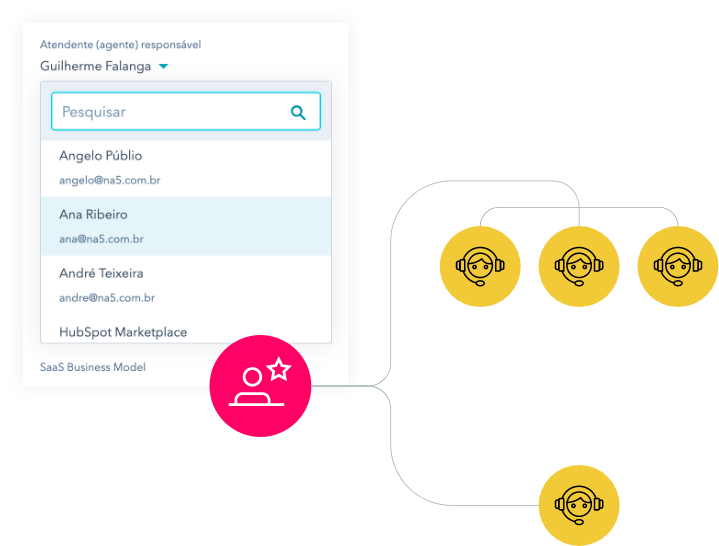 Distribution of leads among your agents and/or teams
Automatically distribute leads among pre-defined agents or teams for the different types of service in your company. For example: if the contact who calls you via WhatsApp is configured at HubSpot as city = "San Francisco", forward it to someone from the San Francisco team. Organize your operation and ensure maximum efficiency.
Customize your messages to the fullest
Use all contact features stored in HubSpot's CRM to create ultra-personalized messages on WhatsApp. They create a real connection with contacts. Never again treat your customers and leads as numbers. You will be sure to always know who they are.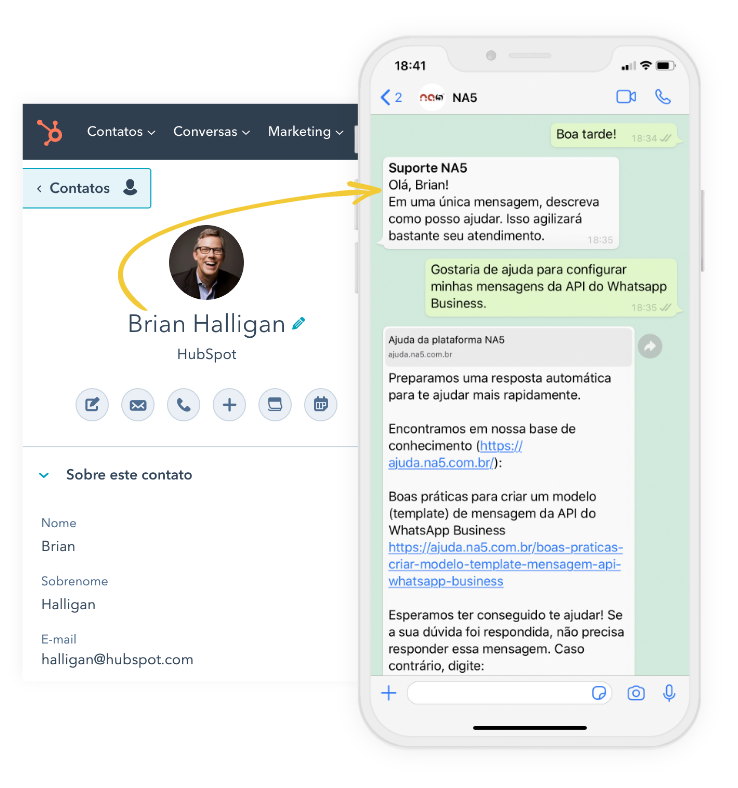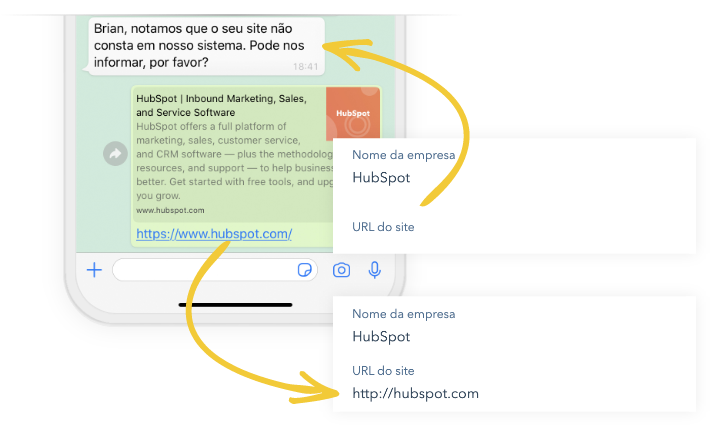 Use WhatsApp conversations to update your contact base
Create automations that update the contact features in HubSpot's CRM, from answers to questions you ask on WhatsApp. WhatsApp can be a super powerful tool for qualifying and updating your contact base.
Create Tickets, Tasks, and Send e-mails
Use WhatsApp conversations to generate automatic actions across your HubSpot ecosystem, from creating tickets to a salesperson's follow-up tasks. The limit is your imagination.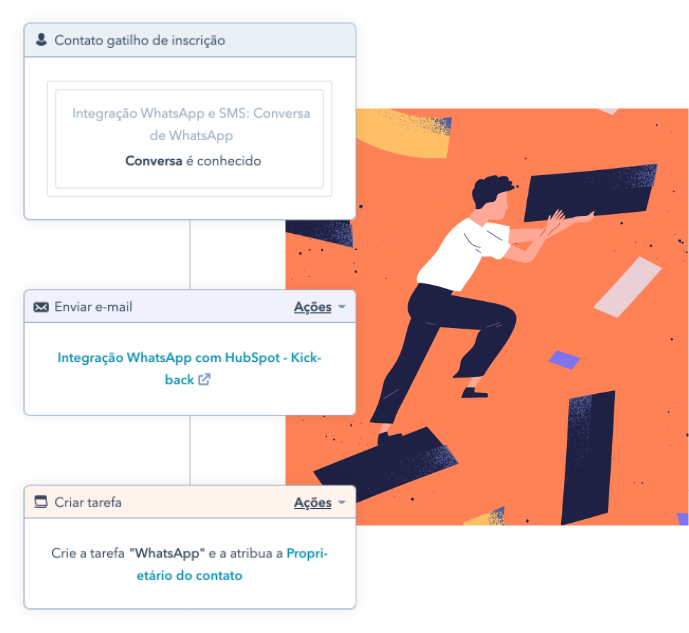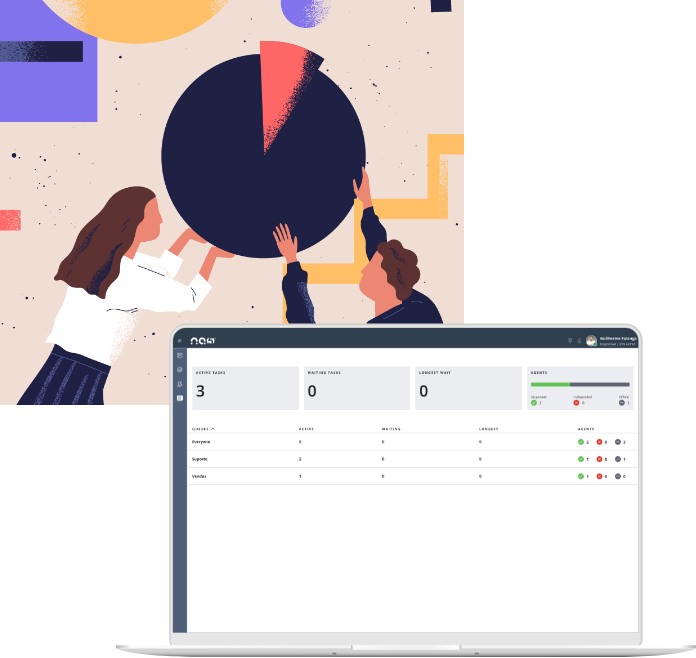 Dashboard and Service Reports from your Agents and Salespeople
Get a complete view of ongoing conversations, waiting times and idle agents. Follow in real time the conversations between customers and agents. Manage your operation closely.
Manage message deliverability
Check the status of each message sent and received via WhatsApp. Analyze possible errors, correct and increase your delivery rates and customer feedback. Ensure the best results for your strategies.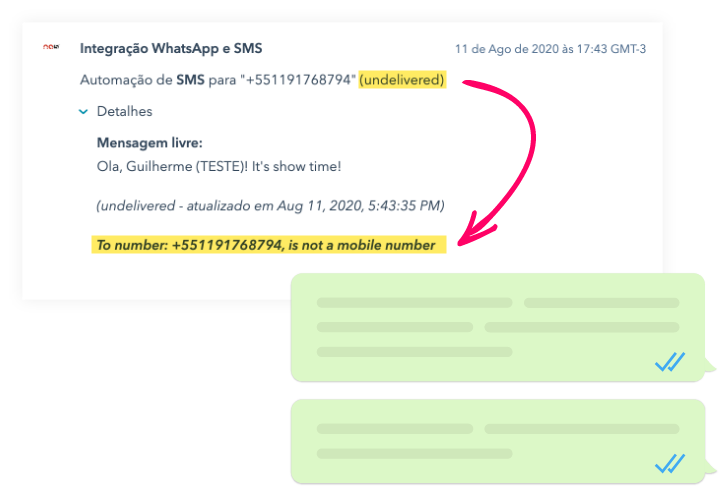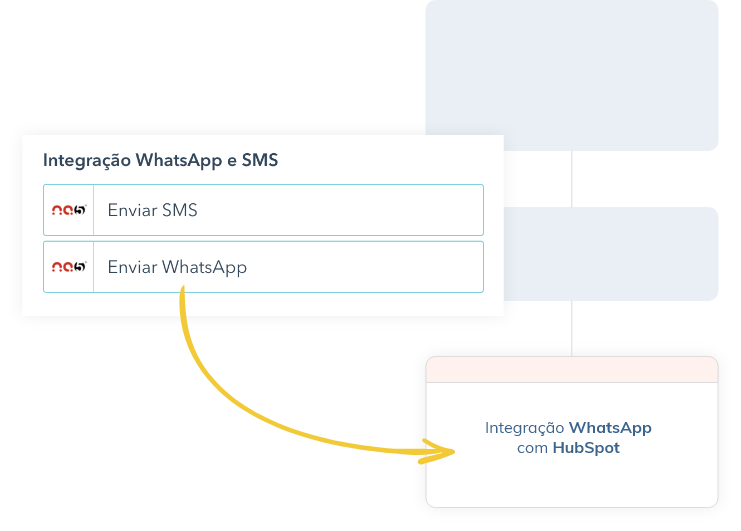 Create Relationship Rules with WhatsApp
Insert WhatsApp messages in your Relationship Rules to deepen the relationship with your leads and customers, and ensure true 360º communication. Offer your contacts an incredible Omnichannel experience
Your customer engagement platform with HubSpot and WhatsApp!
Record all conversations!!
In all the examples above, or in any other ways of applying the messages, any WhatsApp messages will be recorded on the contact timeline in the HubSpot CRM by Plataforma NA5.
Use the HubSpot + WhatsApp full potential
Cancel any time
Installing and canceling Plataforma NA5 is simple and quick. Plug & Play.
Ready to use
There is no need for a programmer to configure the integration and to start using it. Quick and easy to use. We are in the HubSpot marketplace.
Twilio Partner
All messages are sent through Twilio, the largest platform for voice & SMS communication APIs worldwide.
Official WhatsApp Business API
We use the Official WhatsApp Business API, the most secure and reliable way to trigger automatic messages. We help you with the WhatsApp Business API request process.
Verified Account
Your WhatsApp Business account and your number verified ✅.
We follow the entire application process.
Documentation and support in English (coming soon)
The NA5 Platform was initially launched in Brazil (Top-24 country defined by WhatsApp) with Portuguese content. Soon the platform, documentation, and support will also be offered in English.

NA5 has been a HubSpot partner since 2014. We have already made several complex system integrations with HubSpot, and have a deep knowledge of the HubSpot APIs as well as the best way to use their full potential. We have also helped many companies to successfully implement HubSpot and execute Inbound Marketing strategies.